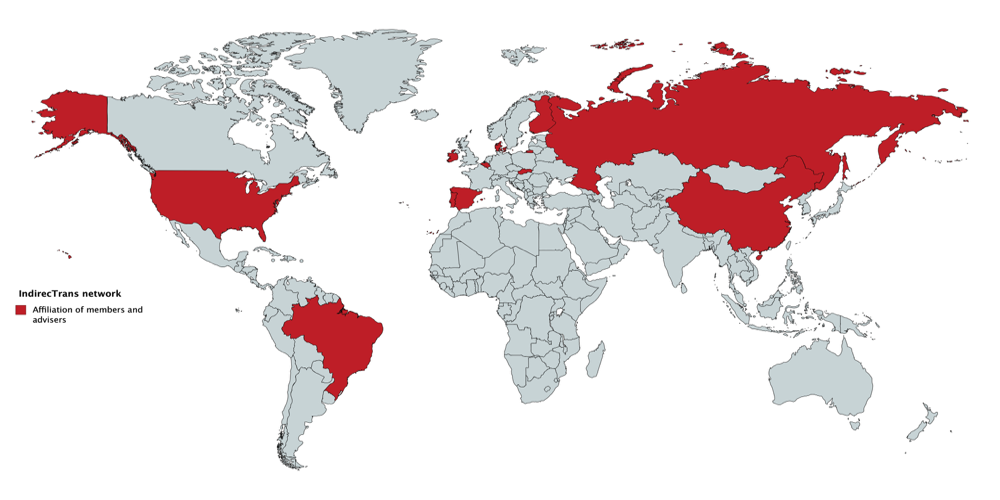 IndirecTrans
Dedicated to bringing together research on indirect translation
Degree in Translation (Lisbon)
Taught MA in Comparative Studies (Lisbon)
PhD in Translation History (Lisbon)
Postdoctoral researcher, Centre for Comparative Studies (Lisbon)


Background information
Marta Pacheco Pinto (PhD in Translation History, 2013) is a postdoctoral researcher at the Centre for Comparative Studies (CEC), University of Lisbon, where she develops a project "Bridging East and West: A Critical Chronology of Published Translations from Japanese into Portuguese (1543-2014)". At CEC she coordinates two research projects: "MOV. Moving Bodies: Itineraries and Narratives in Translation" and "TECOP. Texts and Contexts of Portuguese Orientalism: The International Congresses of Orientalists (1873-1973)" (funded by the Portuguese Research Agency, FCT – PTDC/CPC-CMP/0398/2014). In addition to co-coordinating the "VISTAC – Science and Technology Visuals in Translation" project hosted at New Mexico Tech, she is also early career researcher of the Journal of World Literature and assistant director of the literary studies journal Textos e Pretextos. She is also a member of the editorial advisory board for the Handbook of Research on Multilingual Writing and Pedagogical Cooperation in Virtual Learning Environments (IGI Global, to be published in 2018) and serves on the editorial board as a reviewer for connexions - International Professional Communication Journal.
Research interests
Translation history
Indirect translation
Portuguese orientalism
East-West intercultural studies
World literature
Main ultimate source language (USL) and ultimate target language (UTL) in indirect translation research
Japanese and Chinese (USL) and European Portuguese (UTL)
Selected publications
Pinto, Marta Pacheco, João Ferreira Duarte, and Manuela Carvalho, eds. 2017. Cadernos de Tradução 27 (1). Moving Bodies across Transland. (Link)
Pinto, Marta Pacheco. 2016. "From the Far East to the Far West. Portuguese Discourse on Translation: A Case Study of Camilo Pessanha." Journal of World Languages. East and West Encounters: Translation across Time 3 (1):37-53. (Link)
Nunes, Ariadne, and Marta Pacheco Pinto, eds. 2015. Relance da Alma Japonesa, by Wenceslau de Moraes, edited and with introduction by Ariadne Nunes and Marta Pacheco Pinto. Lisbon: Imprensa Nacional-Casa da Moeda.
Maia, Rita Bueno, Marta Pacheco Pinto, and Sara Ramos Pinto, eds. 2015. How Peripheral Is the Periphery? Translating Portugal Back and Forth. Essays in Honour of João Ferreira Duarte. Newcastle upon Tyne: Cambridge Scholars Publishing.
Pinto, Marta Pacheco. 2013. "A lira chinesa em trânsito: de Machado de Assis a António Feijó." Scientia Traductionis: Machado de Assis & Tradução 14:93-106. (Link)
Pinto, Marta Pacheco. 2013. "Cancioneiro chinez: The First Portuguese Anthology of Classical Chinese Poetry." In Translation in Anthologies and Collections (19th and 20th Centuries), edited by Teresa Seruya, Lieven D'hulst, Alexandra Assis Rosa and Maria Lin Moniz, 57-74. Amsterdam: John Benjamins. (Link)