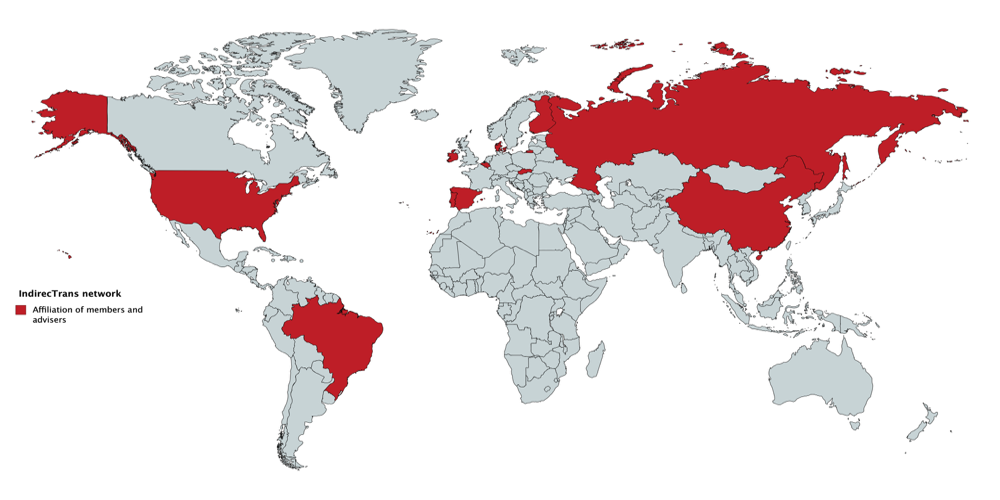 IndirecTrans
Dedicated to bringing together research on indirect translation
Background information
Maialen Marin-Lacarta is a translator and Assistant Professor in the Translation Programme at Hong Kong Baptist University. She teaches Reading Chinese Literature in Translation; Special Topics in Translation; Translation, Publishing and Global Circulation; Methods and Strategies of Translation (Chinese-English) and Spanish/Chinese Translation, and supervises postgraduate research students. She holds a PhD in Translation and Intercultural Studies from the National Institute of Oriental Languages and Civilisations (INALCO) in Paris and the Autonomous University of Barcelona. Prior to joining HKBU, she taught at INALCO and the Open University of Catalonia. Among other authors, she has translated Shen Congwen in Spanish and Mo Yan and Yan Lianke in Basque. Her research interests fall into three broad areas: translation history, literary reception and translators' identity. She is particularly interested in power relations between different literatures and the complex position of modern and contemporary Chinese and Sinophone literatures in the global literary polysystem. In this context, indirect translations have become a key part of her research and she has shown how indirectness is a productive concept that stresses underlying dynamics in the process of translation rendering visible the hierarchies between literatures.
Research interests
literary translation
modern and contemporary Chinese literature
literary reception
translation history
indirect translation
translators' identity
Main ultimate source language (USL) and ultimate target language (UTL) in indirect translation research
Chinese (USL) and Spanish (UTL), Catalan (UTL), Basque (UTL)
Selected publications
Marin-Lacarta, Maialen (forthcoming), "Mediated and Marginalised: Modern and Contemporary Chinese Literature Translations in Spain (1949-2010)", Meta: Translators' Journal.
Marin-Lacarta, Maialen (2017), "Indirectness in literary translation: Methodological possibilities". Translation Studies 18, 2: 133-149. (Link)
Marin-Lacarta, Maialen (2014), "Reclamos reiterativos en las traducciones de literatura china moderna y contemporánea en España" (Recurrent Claims in Spanish Translations of Modern and Contemporary Chinese Literature). In Gabriel García-Noblejas Sánchez-Cendal (ed.) Estudios de traducción e interpretación Chino-Español, B Granada: Editorial Universidad de Granada: 57-101.
Marin-Lacarta, Maialen (2013). "La réception de Mo Yan en Espagne : quelques réflexions sur les canaux de diffusion de la littérature chinoise contemporaine" (Mo Yan's Translations in Spain: Reflections on the Dissemination Channels of Contemporary Chinese Literature). In Angel Pino and Isabelle Rabut (eds.) La littérature chinoise hors de ses frontières : influences et réceptions croisées. Paris: You Feng: 169-194.
Marin-Lacarta, Maialen (2011), "La traduction relais et la hiérarchie mondiale des systèmes littéraires: le cas de la réception de la littérature chinoise du XXe siècle en Espagne" (Relay Translation and the Global Hierarchy of Literary Systems: the Case of Twentieth-century Chinese Literature's Reception in Spanish), La Tribune Internationale des Langues Vivantes, 51 (November): 11-25.
Marin-Lacarta, Maialen (2008), "La traducción indirecta de la narrativa china contemporánea al castellano: ¿síndrome o enfermedad?" (Indirect Translation of Contemporary Chinese Fiction into Spanish: Syndrome or Disease?), 1611: A Journal of Translation History, 2. (Link)
BA in Translation Studies (Chinese and English), Autonomous University of Barcelona
MA in Chinese Studies, National Institute of Oriental Languages and Civilisations (France)
PhD in Translation Studies, Autonomous University of Barcelona (Spain) and National Institute of Oriental Languages and Civilisations (France)