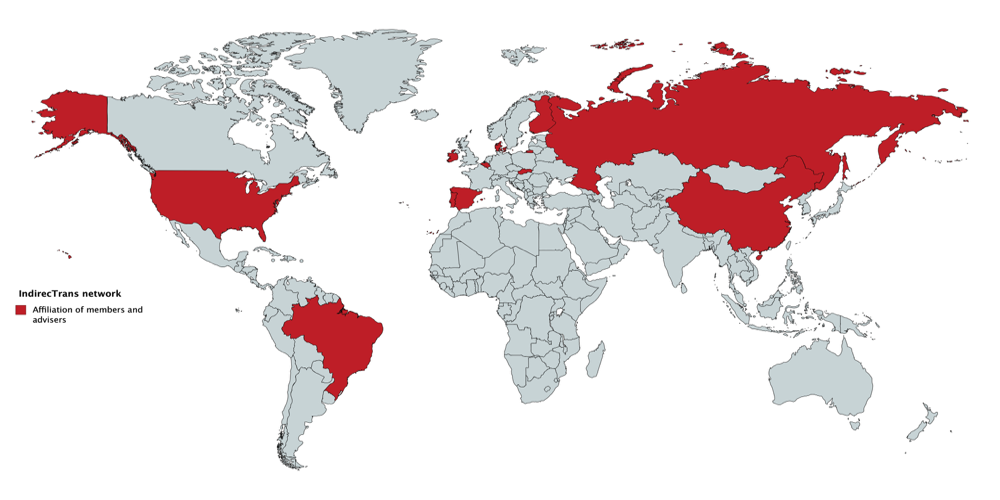 IndirecTrans
Dedicated to bringing together research on indirect translation
MA in Portuguese Studies / Translation (Krakow)
Postgraduate Diploma in Translation Studies (Lisbon)
PhD in Translation Studies (Lisbon)
Postdoctoral researcher, ULICES Research Group 6: Translation and Reception Studies (Lisbon)
Background information
Before taking her current position of an FCT-funded postdoctoral researcher at the University of Lisbon Centre for English Studies (ULICES), Hanna obtained a PhD on the history of Portuguese translations of Polish literature (from the University of Lisbon) and an MA in Portuguese language and literature (from the Jagiellonian University, Krakow). She is a former member of the European Society for Translation Studies (EST) Glossary Committee (2013-2016). She is currently a principal researcher in the 'IndirecTrans3' project and an executive member of the International Society for Iberian-Slavonic Studies (CompaRes). She teaches undergraduate units in the theory and practice of translation, and supervises MA research in translation-related topics at the School of Arts and Humanities, University of Lisbon (FLUL).
Research interests
indirect translation 
inter-peripheral literary translations
translation history 
translation studies terminology 
translation studies bibliometrics
Main ultimate source language (USL) and ultimate target language (UTL) in indirect translation research
Polish (USL) and European Portuguese (UTL)
Selected publications
Assis Rosa, Alexandra, Hanna Pięta, and Rita Bueno Maia. 2017. "Theoretical, methodological and terminological issues regarding indirect translation: An overview." Special Issue of Translation Studies 10:2. Indirect Translation: Theoretical, Methodological and Terminological Issues, guest-edited by Alexandra Assis Rosa, Hanna Pięta, and Rita Bueno Maia: 113-132. (Link).
Pięta, Hanna. 2017. "Theoretical, methodological and terminological issues in researching indirect translation: A critical annotated bibliography."  Special Issue of Translation Studies 10:2. Indirect Translation: Theoretical, Methodological and Terminological Issues, guest-edited by Alexandra Assis Rosa, Hanna Pięta, and Rita Bueno Maia: 186-216. (Link)
Pięta, Hanna. 2016. "On Translation between (Semi)peripheral Languages: The External History of Polish Literature Translated into European Portuguese as a Case in Point."  The Translator 22 (3):354-377. (Link)
Pięta, Hanna. 2014. "What Do (We Think) We Know about Indirectness in Literary Translation? A Tentative Review of the State-of-the-art and Possible Research Avenues." In Traducció indirecta en la literature catalana, edited by Ivan Garcia Sala, Diana Sanz Roig and Bożena Zaboklicka, 15-34. Lleida: Punctum. (Link)
Pięta, Hanna. 2013. "Patterns in the External History of Portuguese Collections with Translations of Polish Literature (1855–2009): An Exploratory Case Study." In Translation in Anthologies and Collections (19th and 20th Centuries), edited by Teresa Seruya, Lieven D'hulst, Alexandra Assis Rosa and Maria Lin Moniz, 153-170. Amsterdam: John Benjamins. (Link)
Pięta, Hanna. 2012. "Patterns in (In)directness: An Exploratory Case Study in the External History of Portuguese Translations of Polish Literature (1855-2010)."  Target 24 (2):310-337. (Link)